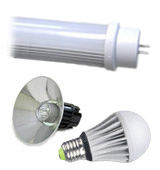 LED Lighting Equipment
LEDs with high luminous efficiency are becoming the focus of attention as the international situation demands global environmental protection and energy conservation as essential requirements. A rapid transition from incandescent lamps, fluorescent lamps and mercury lamps to LED lights, which had not been drawing much attention in the past, is now progressing rapidly. We offer numerous types of LED lighting equipment.
We provide LED fluorescent lamps, flood lights, street lights, ceiling lights, down lights, flexible lights, as well as LED lighting for plant factories, which are expected to undergo growth in the future.
Department in Charge: Development Department
---